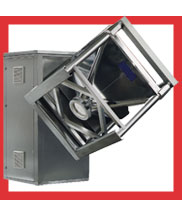 TUMBLER:
•
no cleaning costs
•
no cross contamination
•
no product or quality loss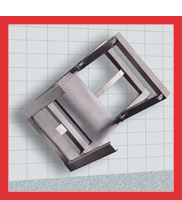 The drive and control cabinet are placed behind a wall. This means that only the rotation frame is in the blend room.


BLENDING

Alucon has a large variety in tumbler blenders for both container systems, TOTSYSTEM® and EUROBIN®. The blenders are universal and can easily be adapted to containers with different sizes. No loss of time by changing products. No cleaning time or cross contamination for food, pharmacy and heavy duty industry and laboratory blenders.

All products with small or large grains can be blended. Small to large batches. No loss of quality or product. The result of 40 years of experience in blending.
1 • Pharmcy blender:
Fully sanitary construction. If required the gear motor and all controls can be placed in an explosion free area.
2 • Industrial blender:
A conventional blender with 2 axes. Ideal for large batches and heavy duty purposes. Optional with automatic loading and unloading of the container with a roller conveyor.
3 • Laboratory blender:
Especially for very small batches. The blender is placed inside a glass protection fence.

TOTESYSTEM-TUMBLER
-BLENDER